Dog owners are being warned to be vigilant as the deadly dog disease Alabama Rot continues to spread across the UK. So far, 86 dogs have been confirmed with the disease since 2012, and the numbers seem to be increasing. Greater Manchester, Cheshire and Staffordshire have had cases confirmed, with many other areas of the country reporting cases.
The condition begins with ulcers on the dog's skin and lower legs before the rapid onset of kidney failure and is believed to be caused by parasite or toxins produced by E. coli, although this is yet to be proved.
The majority of dogs who have been treated for Alabama Rot in the UK have been walked in muddy and/or woodland areas, with more cases reported between November and May than between June and October, which suggests the dogs are more likely to be affected in winter and spring.
The first signs you may notice if your dog has contracted Alabama Rot are lesions or ulcers on the skin. These could appear as a patch of red skin, or as an open ulcer or sore. In many cases, the lesions will look out of the ordinary to vets.
These sores are most commonly found on a dog's paws or lower legs, but they can also be found on a dog's face, mouth or tongue, or on their lower body.
If you see any sores like the one shown in the image, that were not caused through injury, you would be advised to seek urgent attention from your vet.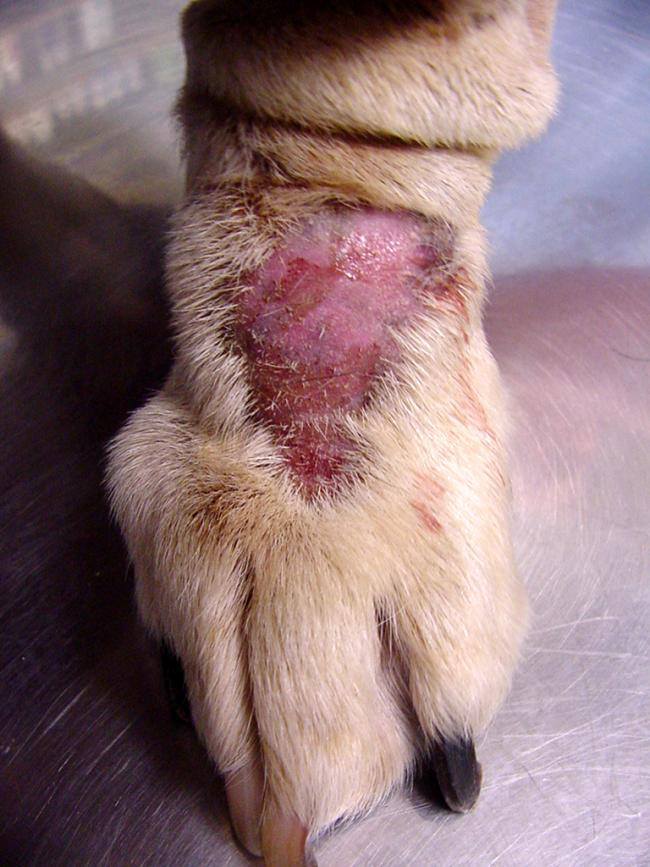 Signs of kidney failure include loss of appetite, tiredness and vomiting. If your dog is showing signs of sore skin or ulcers on an area of their body that is close to the floor (and you know these have not been caused by an injury) it's a good idea to contact your vet urgently.
On average, dogs suffer from kidney failure about 3 days after lesions begin to show on the skin, however the time between sores appearing and kidney failure can be between 1 and 10 days. The earlier this disease is caught and treated by a vet, the higher the chances of recovery.
For help with recognising some of the warning signs of Alabama Rot, and to check if there have been any cases in your local area, please visit www.vets4pets.com/stop-alabama-rot/