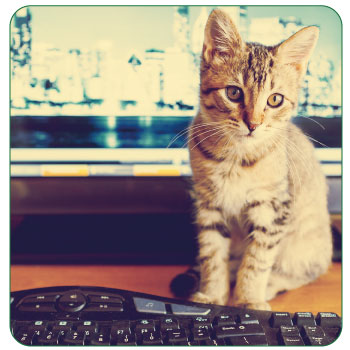 In countries all around the world, dogs and puppies are used to lower stress levels in students and company employees, and holding a puppy is actually proven to help lower stress and maintain a positive outlook. In Japan, cuddling cats every working day is actually a reality – a reality that we're all very interested in. Just imagine… work gets on top of you, you're tired and it's only Monday; just cuddle the cat on your desk until you feel better. It seems too good to be true.
In a small office of an IT firm in Tokyo, a new and magical method of coping with stress is being trialled – nine cats live, eat, and sleep in the office, providing a cure for stress all day every day for anyone who needs it.
This project has been up and running for nearly 20 years, and was implemented after an employee suggested that staff should be able to bring their cats to work. The system began with employees being able to bring their cats from home and therefore be able to look after their pets during long work days.
Furthermore, employees are rewarded if they adopt a rescue cat. But, there are some adorable little issues with this system. Despite all the employees of this company being huge cat lovers, the cats are known to regularly step on telephones and end their calls, shut down computers and pull out cables round the office – essentially, just general mischievousness. However, these issues in no way equal the joy and stress relieving qualities that the cats bring to the office, and therefore have yet to develop into serious problems.
This idea has spread to other offices around Japan, and there are also now over 60 registered cat cafes around the city, perfect for lunch if you're having a bad day at the office. Sounds perfect.