BEAPHAR CALMING PRODUCTS FOR DOGS and CATS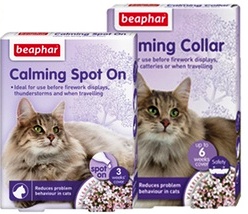 Beaphar Calming Collars for dogs or cats, effectively reduces problem behaviour arising from stressful situations in pets of all breeds, sizes and ages. Using Valerian and Lavender which are often used in human healthcare to manager stress. It leaves pets feeling calm, settled and relaxed, reducing potentially destructive problem behaviour. When pets are more secure in their environment they are more relaxed thus making them better house companions. Keeping pets calm will help to prevent excessive barking, chewing, inappropriate urination and can be essential in pets that suffer separation anxiety. Once fitted, Valerian will be released immediately and your pet will begin to relax within approximately one hour. Dog Size = 60cm: Cat Size = 35cm.

Beaphar Calming Spot On for dogs or cats, naturally and effectively calms and reduces problem behaviour in pets of all breeds and ages. Contains Valerian extract, a herbal supplement noted for its calming properties. Due to its micro-encapsulated formulation, a single application will calm your pet for up to one week. For dogs it can help alleviate problems such as excessive barking, destructive behaviour and inappropriate marking. For cats it can help alleviate problems such as vertical scratching on furniture, urine/scent marking in the home, excessive meowing and boisterous behaviour. It will also help your pet feel less apprehensive during difficult times such as visits to the vet or kennels/cattery, fireworks, thunderstorms, travelling in the car, or moving house. Size: Contains 3 pipettes.