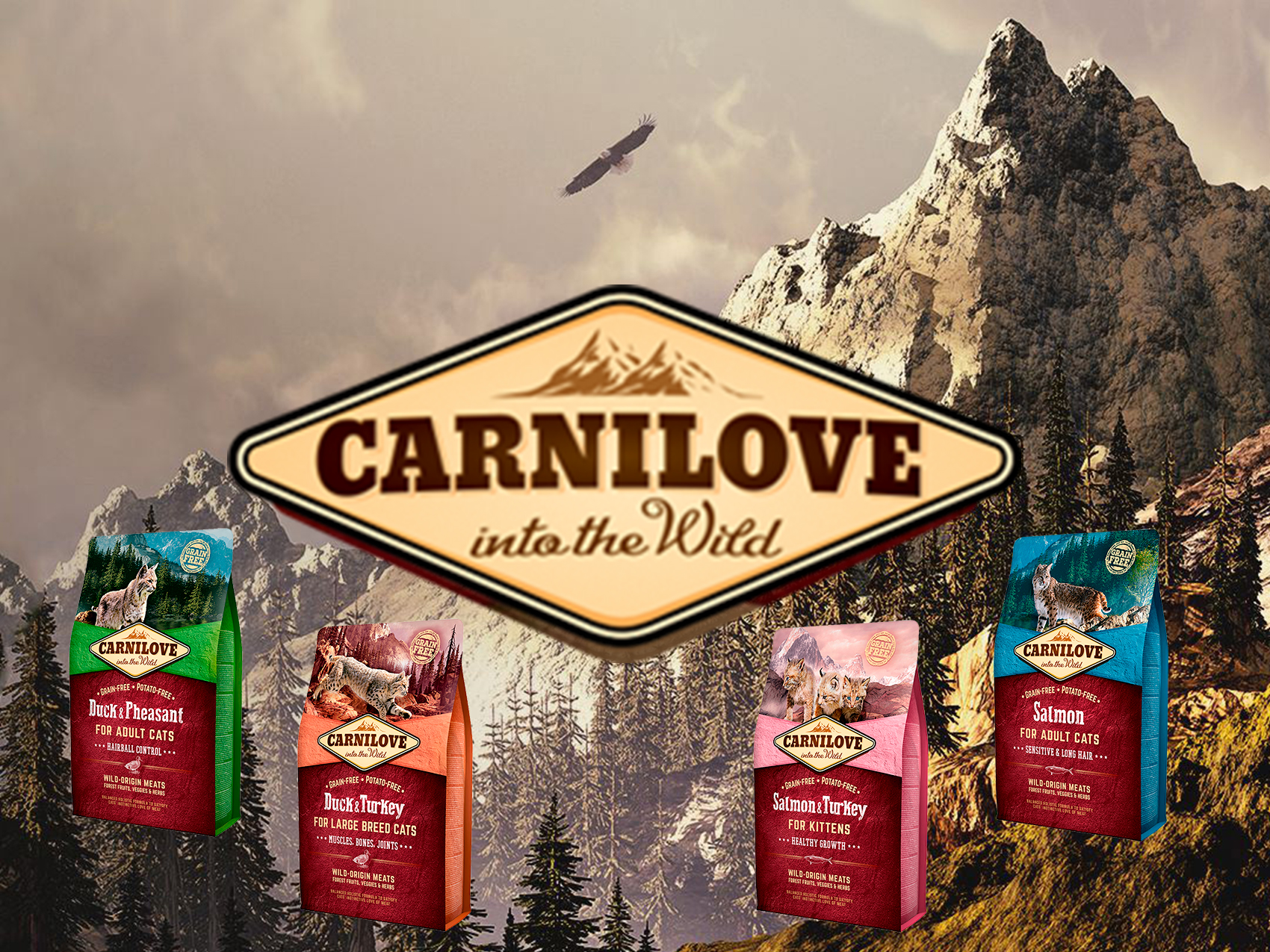 Carnilove grain free high quality natural cat foods have been carefully formulated with respect for the natural origins of cats.
Carnilove grain free high quality natural cat foods offer a wide spectrum of carefully selected wild-origin meats, such as reindeer, duck, pheasant, turkey, lamb, wild boar and salmon, corresponds to the composition of natural prey and ensures intake of important amino acids. Forest fruits, vegetables, wild berries, and herbs are natural sources of important vitamins, antioxidants and other essential nutrients.
Carnilove is a complete all natural diet that guarantees to contain NO chemicals, preservatives or colourants.
Carnilove Grain Free High Quality natural cat foods are the best diet that you can offer your beloved pet – simply 70%+ wild origin meats and 25%+ forest fruits, veggies & herbs.

Carnilove is a totally grain and potato free diet.
Cats are almost exclusively meat eaters, and their anatomy and metabolism have adapted to process food from animal sources. Neither grains nor potatoes are found in the natural feline diet.
Carnilove wild origin meats are an essential source of food for cats.
The unconventional sources of proteins in Carnilove – reindeer, duck, pheasant, turkey, lamb, wild boar, and salmon – are rich in nutrients, unsaturated fatty acids, and amino acids, all of which nourish the muscles and tissues. The meat and animal ingredients in Carnilove cat foods are selected with the greatest possible emphasis on quality.

Salmon oil is a natural part of the Carnilove formulas.
It is a rich source of omega-3 unsaturated fatty acids, which support nervous and cardiovascular system health, contribute to quality skin and hair, and have a positive effect on many other bodily functions. The oil in Carnilove comes from Scottish salmon and contains high levels of DHA and EPA, both which improve mental and learning capabilities.
Carnilove contains a natural composition of forest fruits, vegetables and herbs.
This helps supply a natural source of nutrients and fibre, plus supply the body with necessary vitamins. The fruits and herbs are rich in anti-oxidants, which supports natural cell protection and boosts the immune system. The addition of carefully selected supplements ensures that Carnilove cat foods support digestion, intestinal microflora, metabolism and cellular immunity. They also offer antiparasitic properties along with positive effects on the condition and mobility of the joints, tendons, and ligaments.
CLICK ON THE IMAGES BELOW FOR MORE DETAILED INFORMATION