We have a great range of cage & aviary food in our store, and as we specialise in large sized bags, we offer great value when purchasing all your caged bird feeds. Alongside our popular small pack range, we offer supplements, treats and accessories.
Our in stock bulk bag range comprises of the following…
Budgie No.2 Special Seed 20kgs
Plain Canary Seed 20kgs
Canary Super Seed with Egg 20kgs
Foreign Finch Seed 20kgs
Parakeet & Cockatiel Mix 20kgs
Parrot Mix De-Luxe with Fruit 12.75kgs
Parrot Mixture 12.5kgs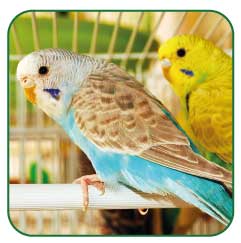 And if you are after anything specific then let us know. We have access to over 1000's products and can pretty much get anything that you want – just call and ask – it's all part of the service.
Our team are on hand to offer advice as to which is the best product for your caged birds, and to source any products you are interested in. We can tell you "there and then" whether we get a special product for you, and how much it will cost – it's all part of our great customer service.
Don't worry about the big bags – if you need any help carrying anything to your car, we're here to help everytime. We have a large FREE car park right next to our superstore, and everything is all on the one level.